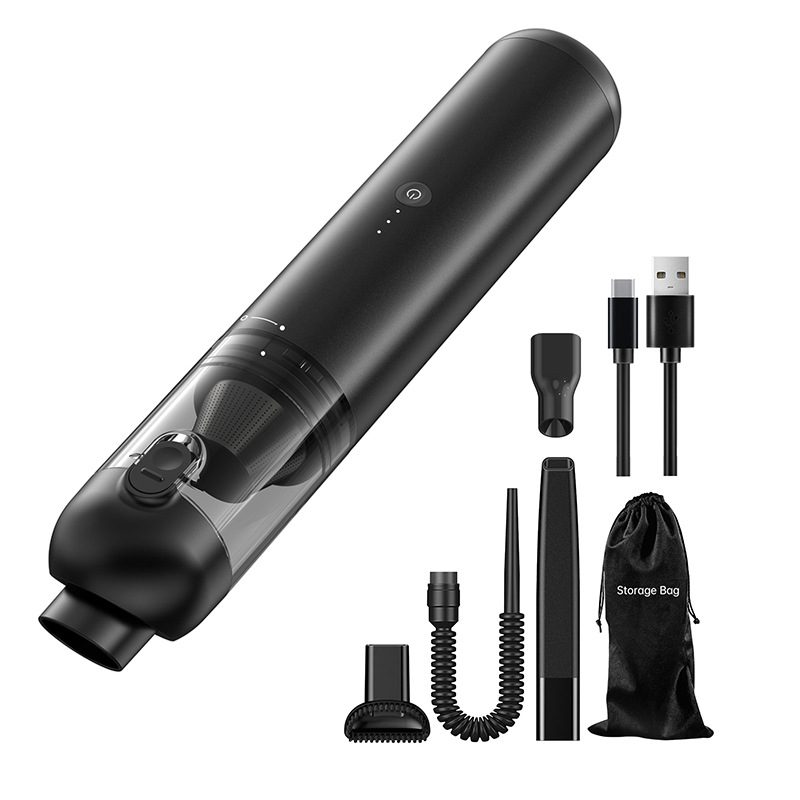 ${data.index + 1}/9
Portable Car Cleaner for Tesla
This vacuum high-speed brushless motor cleaner provides up to 60 minutes of solid cleaning power, which can quickly and deeply clean almost any small hard-to-reach place. The compact and wireless design of the Tesla vacuum cleaner provides greater mobility and convenience and is easy to carry and store. If you want to find a simple and fast way to keep your car clean, then you will definitely need this handheld Tesla car cleaner.
Tesla Car Vacuum Cleaner Features
Multifunction
Combines vacuum cleaner, inflator, and mini blower into one, giving the car vacuum cleaner more possibilities. The set includes a vacuum cleaner with the main nozzle, connecting brush nozzle, brush nozzle, long crevice nozzle, blowing hose, USB-C charging cable, and a storage bag to meet your different cleaning purposes.
Powerful Suction
The high-speed brushless motor provides strong suction up to 16KPA and easily cleans dust, pet hair, sand, food residue, liquid, and debris hidden in the cushion or sofa.
Triple Filtration System
This handheld vacuum cleaner has a triple filtration system, which effectively ensures the performance of the car cleaner. The outer stainless steel filter can separate coarse crumbs such as sand and pet hair; the inner layer has a HEPA filter and filter sponge, which can remove 99.5% of dust and particles.
Triple Crevice Tool
The portable Tesla car cleaner is equipped with three interchangeable nozzles, enabling effective cleaning of various hard-to-reach areas.
8000mAh Battery Long-lasting
The mini car vacuum cleaner has built-in 4 * 2000mAh rechargeable large-capacity batteries, which support up to 40 minutes of efficient cleaning, making your cleaning easier. With the included Type-C charging cable, the portable car vacuum cleaner can be fully charged in just 3.5-4 hours, and you can use the USB slot to charge it in your car or anywhere in your home.
Easy to Clean
With just one touch, the dust bin will pop open automatically, and you don't need to dirty your hands when emptying the dust inside. A lock on the dust bin prevents the dust bin from being opened accidentally. The stainless steel and HEPA filter can also be removed for deeper cleaning.
Free shipping on all orders.

In general, order processing time is 1-3 days, and the delivery time is 7-14 working days.

For more detail, please review our shipping Policy.
Money back guarantee for 30 days, your satisfaction is guaranteed and important to us.
Return it for a new replacement or issue a refund if the product is defective. The refund will be returned by the same method as your original payment.
Do not hesitate to contact us if you need any help.




We have installation videos on the product page. If you still have installation questions, please feel free to contact us. We will assist with the installation until it is finished.



Track your orders simply click the shipment email we sent or track on our website.